{This is Yummy Sunday entry for November 16, 2008. I am post dating it so it's easy to find for those who wants to join. Please scroll down for newer posts. Thank you.}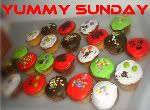 Welcome to our first edition of
Yummy Sunday
. Hope all of us will enjoy posting our food photos. Fettuccini in tomato sauce. I had this one at an Italian Restaurant in Midvalley Megamall.
And of course, I'm posting my own Raw Bitter Gourd Salad with apple too (my own version).


Please sign your name and yummy sunday url here in Mr Linky's and enjoy visiting other entries as well.