It's Yummy Sunday time. I am excited to see a variety of dishes again this week. I know people would be preparing a lot of food... so I'm expecting lots of food photo showcase. *drool*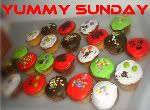 My entry taken (last month) when we had breakfast at The Coffee Bean and Tea Leaf coffee shop. We were on our way to Alor Setar and hubby and I had breakfast just before boarding our flight.

Brek-o-day (with tea) - hubby's order.
mine was like this which I forgot the name already. of course, I regretted I ordered this. I preferred hubby's one more.
with free brewed coffee. Of course, I had it with fresh milk and sugar