Welcome to Yummy Sunday #12!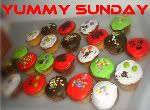 Kanom Jin - Thai food that is usually served for breakfast. but could be eaten anytime of the day too. It is super duper spicy. But I love it. One of my favorite Thai food, ever.

To moderate the spicy-ness, you have to eat this raw green vegetables. Living in Thailand for almost 3 years got me eating these too.

What food are you showing off today? If you're Yummy Sunday joiner and your post is up, please leave your link here at Mr Linky's. And please don't forget to visit other food entries as well. Thank You!