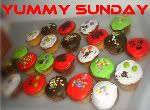 Today's edition of yummy sunday is a surprise. I am featuring a food shot from last week's entries. And this week, I am featuring a yummy entry from
z dark room
:
If you wanna join and showcase your food shots, just post a photo of food, any food (includes drinks too) will do, whether you cook it yourself, or somebody else did, or even the food from a restaurant. Easy huh? Then you can come here, grab the yummy sunday badge and post in your yummy sunday post. Once done, you can enter your name and your yummy sunday url in Mr Linky's. Don't forget to visit other entries as well and comment. Let's make this meme an easy and fun meme. Thanks!
Just a warning. All entries are really mouth-watering and super tempting. I get hungry everytime I visit entries and I tend to crave for those. Not good for those who are watching their weights... but with the
best diet pill
around, one can't worry of eating too much.
Enjoy!
2/7/2009 entry