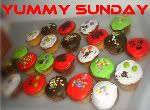 Hello, welcome to our 14th edition of Yummy Sunday. This week, Yummy Sunday is featuring
FoodieJen's lasagna
. Looks really yummy! Hmmm. Bad for diet. LOL.
If you wanna join us in show casing our food photos, you may join by posting any food photos (food you cooked or cooked by somebody else or food you got from restaurants), get the yummy sunday badge, put in your post and once your post is up, you may enter your name and url of your yummy sunday entry at Mr Linky's. Don't forget to visit other entries as well! Thank you!
Note: I have this posted early because I won't be around on Sunday.