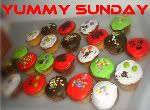 Welcome to the 21st edition of Yummy Sunday.

When hubby and I were in Cambodia, we stayed in a Korean Hotel. You can bet they served Korean food specially Kimchi. I love Kimchi so I didn't mind.


What do you have to show off this week? Again, thanks for joining us at Yummy Sunday. Don't forget to visit other entries as well. Have a good week, everyone!