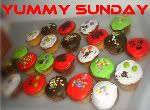 Today is Easter Sunday. All Christians around the world are commemorating and celebrating Jesus' Resurrection. Not sure how easter eggs and bunnies made their way to Easter celebration. Will have to google that later.

I stole some eggs for this Sunday's entry at
Alice Restaurant
. You might wanna visit her restaurant to see how she did this:
Happy Easter, everyone!