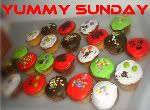 Welcome to the 24th edition of yummy sunday! Our week's feature is this beautiful cake from
People with Cameras
.
What do you have to show this week?
You may now write your name and url at Mr Linky's after posting your food entry with yummy sunday badge in it. Please don't forget to visit other entries as well. My apologies for not being able to visit last week's entry. Another apology because this week, I'm going out of the country for family holiday... so I might not be able to visit entries again. But please, if you're a participant, I am asking you to visit each other's entries... k? Thanks!

And hope you have a good week this week!