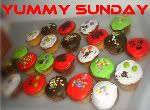 Hello, everyone! How's your weekend so far? This week's feature is a yummy spring chicken with black pepper sauce I got when we were in Hong Kong for a family break.

I would like to apologize that this week, we're not using Mr Linky. But if you're joining yummy sunday, you may leave a comment here with your yummy sunday url and I'm going to put your link into this post. Fair enough?

Again, I apologize. But I hope that after leaving a comment, you will come back to check out other entries. Thank you so much. You'll have a good week.