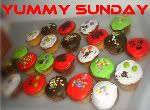 Hello everyone! Yummy Sunday is here once again. I am happy to announce that our Mr Link is up and running again. Well, I had to upgrade it to Gold membership to be able to use it again.

Our week's feature is an interesting dish,
fried quail by Sarah
. Fried quail is one of the delicacies in Thailand.
You may now enter your name and Yummy Sunday url at Mr Linkys after posting your Yummy Sunday photo in your blog with Yummy Sunday badge in it. And please don't forget to visit other food entries as well. Thank you and hope everybody will have a good week.